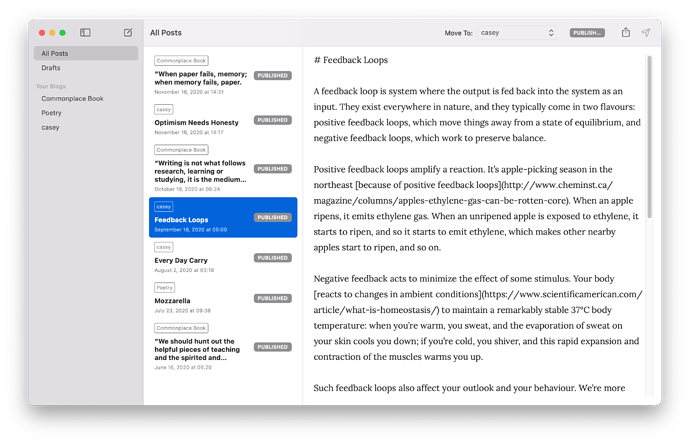 Sharing much of its underpinnings with the WriteFreely iOS app, we'd love your feedback on our work, so please send a private message to @beta-mac if you're interested in access. You'll need a Mac running macOS 11 ("Big Sur") to test the app.
Before you do, please note that this is pre-release software, and users may be subject to bugs, app instability, and potential data loss.
Known Issues
Terms Of Testing
There are a few of things we need to mention regarding the beta. If you choose to message @beta-mac to participate, you implicitly confirm that you've read the following:
Please make sure that your Mac is running macOS 11 "Big Sur" or later. You can verify this by choosing "About This Mac" in the Apple menu at the top-left corner of your desktop.
Please note that there are some known issues and that this is pre-release software. It may crash, or otherwise work in a way that causes you to lose data. We recommend testing it against a test account in your WriteFreely instance or on Write.as.
Your participation helps us make WriteFreely for Mac better, but only if you share your feedback with us! Let us know about bugs or unexpected behaviour, and tell us about features you'd like to see added. We may reach out to you individually to check in on your experience with the beta.
WriteFreely for Mac will be a paid product. If you'd like to continue using the app after release, you'll have to purchase a license.
If you're still interested, let us know and we'll send you a download link for the beta! Thanks so much for your interest.