As part of my work on Teams, and the new ability to set someone as the "author" of a post, I'm also considering adding a long-requested feature to the web editor: scheduling posts. This has been requested before, both here (Scheduled Posts?) and in private messages.
But for all the people who want this feature, I know many people also don't need this feature. So for the sake of balance and staying minimal for those who want it, I'm wondering: What's the case against supporting scheduled posts? Do you think it'd slow down the publishing flow too much? Do you think it'd lead to too much clutter? Too much distraction?
Design
For a little reference, this would change how the Publish button in the editor works. Instead of clicking Publish and the post instantly publishing to your blog, it would open a small window like this – then clicking Publish here would actually publish the post.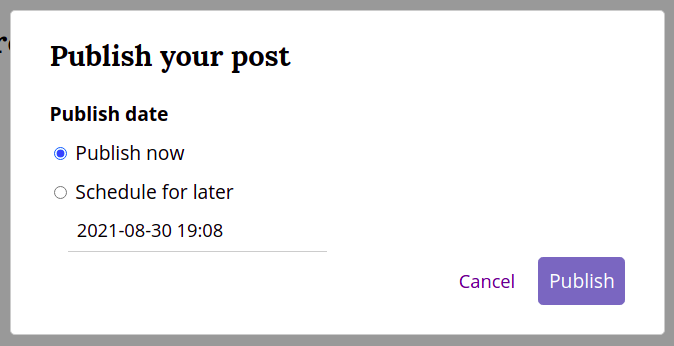 Thoughts?
Please feel free to share any thoughts you have. Strong opinions are good! I'll use all of this to design a flow that hopefully balances everyone's needs, whether you need this feature or not.