The ios app constantly says my password is incorrect, but I'm pretty sure I entered the correct password.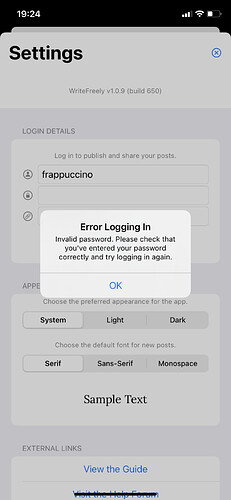 Hey @frappuccino, thanks for reaching out and sorry for the bother!
It's unexpected to me that this alert is being presented, while looking at the login form behind it, the password field is empty? You should see an obfuscated entry there (like "••••••••").
Any idea why that might be the case?
I don't have any idea……I re-registered an account later and tried to log in again, but it still says my password is invalid. Maybe you can help me register an account or just provide me with a ready-made account, so I can use it to log in and publish my works?
I spent money on downloading your app after all, and I don't want to waste them.( ; ; )
Oh……I just remembered. I'm in China right now and have to use the app by VPN. Could this be the cause of my problem?
Looking forward to your reply, please!!

Hmm, that could be it — are you trying to log in to write.as? Try using writeas.xyz instead and let us know if that works!