I admit, I am new to setting up a custom domain with a provider. I have searched the forum and found a reference to my situation, but it was from 2019 and the information has changed layouts. I have purchased the domain I would like. I looked at the write.as document about what values need to be where, but honestly, I am not exactly sure which of these values with Godaddy match up.
Do I need to create a new A record and delete the current one? I am guessing so as this is a parked command? and not an actual IP address.

I am guessing I need to create an AAAA record?

Do I change the second CNAME to the me.writeas.com address and just delete the first one?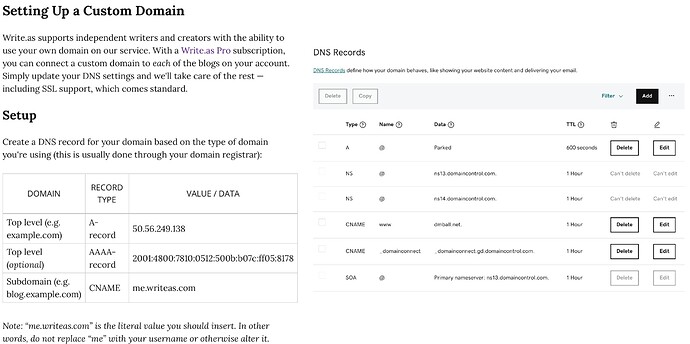 Sorry for the confusion, but trying to get this right. I setup a custom email with a provider, but honestly, the instructions were a bit more clear with respect to that service.
Thanks for the help and looking forward to continuing my writings with a new service.